News
An interview with Petra Krystek
Further puzzling on the roadmap of microplastics research and its impact
What is your role within MOMENTUM?
'Since the beginning of May 2022, I have the pleasure of being the co-leader of work package 7 together with Juliette Legler. It was with great pleasure that I accepted the handover of this activity from Dick Vethaak and I very much appreciate Dick's continuation as an advisor of this challenging work package.'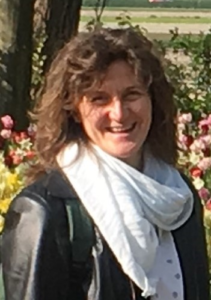 Can you tell us something about the research within your work package?
'WP7 is the work package that looks into solutions, which makes it very multidisciplinary within and outside of MOMENTUM. Within WP7 the formation and regular consultation of the User Group Committee is a key aspect. This helps us with the main objective of setting up long term solution sets and developing solution pathways for the envisioned solution sets on minimizing the potential health impact of microplastics. The different solution sets should complement each other and will be summarized in an R&D agenda and roadmap for promising innovations and solutions on minimizing the impact of microplastics. This research is combined with communications from Juliette Legler and Dick Vethaak, the project leaders of MOMENTUM.'
Why do you think MOMENTUM and research on micro- and nanoplastics are important?
'More than fifteen years ago, I was first inspired by research questions on nanomaterials and human health, and I have appreciated working on this topic from very different facets ever since. Micro- and nanoplastics make the materials' aspect even more complex and challenging and more processes can take place with the additional combined and co-activating processes. Manufacturers' commitment as well as social awareness and responsibility for the choice and use of plastics is growing but must increase significantly.'
What are the challenges?
'MOMENTUM's research is concerned with crucial aspects of microplastics in relation to human health. Minimizing the potential health impact is our mission and we all know that we cannot address all aspects within one project. But MOMENTUM goes into depth on microplastics and the human health aspects; you could also call this the central puzzle piece. During the progress of the project and the discussions of WP7, it has also become apparent that many more stakeholders and related research areas are emerging; for example, the relationship between human health and the environment, medical and epidemiological research, material sources, selections, applications, substitution and properties, and the circle of materials within a linear and circular economy. These are the puzzle pieces that influence the R&D roadmap.'
"The MOMENTUM project is an excellent playing field where we are working towards a healthy and sustainable future"
What do you want to achieve?
'Driven by my personal passion as an interdisciplinary and analytical chemist, I am keen to answer questions about what certain compounds and matrices –like microplastics- are, and what they do under variable circumstances. The MOMENTUM project is an excellent playing field where many of these aspects come together and where we are working towards a healthy and sustainable future.'
'First, we need to intensify the collaboration and visions of our WP7 partners so that we can work closely together on the roadmap. Another aspect is to intensify the collaboration with WP6 on the risk assessments. I think it would be very useful to work together on solution analysis and the extended solution roadmap. During my meetings and discussions last month, I saw a great motivation among the different partners to test their ideas and bring them to reality. Each meeting resulted in new insights for me and it makes me curious to go further into the depth of challenges, linkages, networks and also into the complexity for the long term research and application of plastics within the Netherlands and internationally.'
'Having strong arguments and realisations for different stakeholders and making a strong roadmap with co-solutions for the responsible types and the responsible use of plastic materials will challenge us in the remaining two years of MOMENTUM.'